Electricity provides us with heat, light and comfort. It is a resource, which has to be used responsibly. The modern trends show that more often customers want to generate green energy themselves.
Competence
The experience accumulated by Latvenergo allows to give valuable and practical recommendations on how to live more environment- and wallet-friendly.
New solutions
Latvenergo constantly develops new offers and solutions, diversifying the range of its services.
Environment around us
The Group's diverse environmental initiatives and achievements are highly appreciated both by experts in the sector, and the public.
Energy efficiency
Latvenergo is the first company in the Baltics, which already in 1997 established the Energy Efficiency Centre and intentionally started popularization of energy efficiency, educating its customers on responsible and rational consumption of electricity. An energy management system according to an international standard was introduced at Elektrum Energy Efficiency Centre in 2015, receiving ISO 50001:2011 certificate. Our specialists willingly share their experience in the development and introduction of energy management system, thereby also inspiring our customers. Generally known facts about boiling only as much water, as needed, adjusting the refrigerator's temperature at 5 degrees and washing laundry at 40 degrees represent the achievements and duties of the day-to-day work by energy efficiency specialists.
Today, the range of services offered by Latvenergo trading brand Elektrum involves solutions for companies, as well as a range of recommendations for private persons.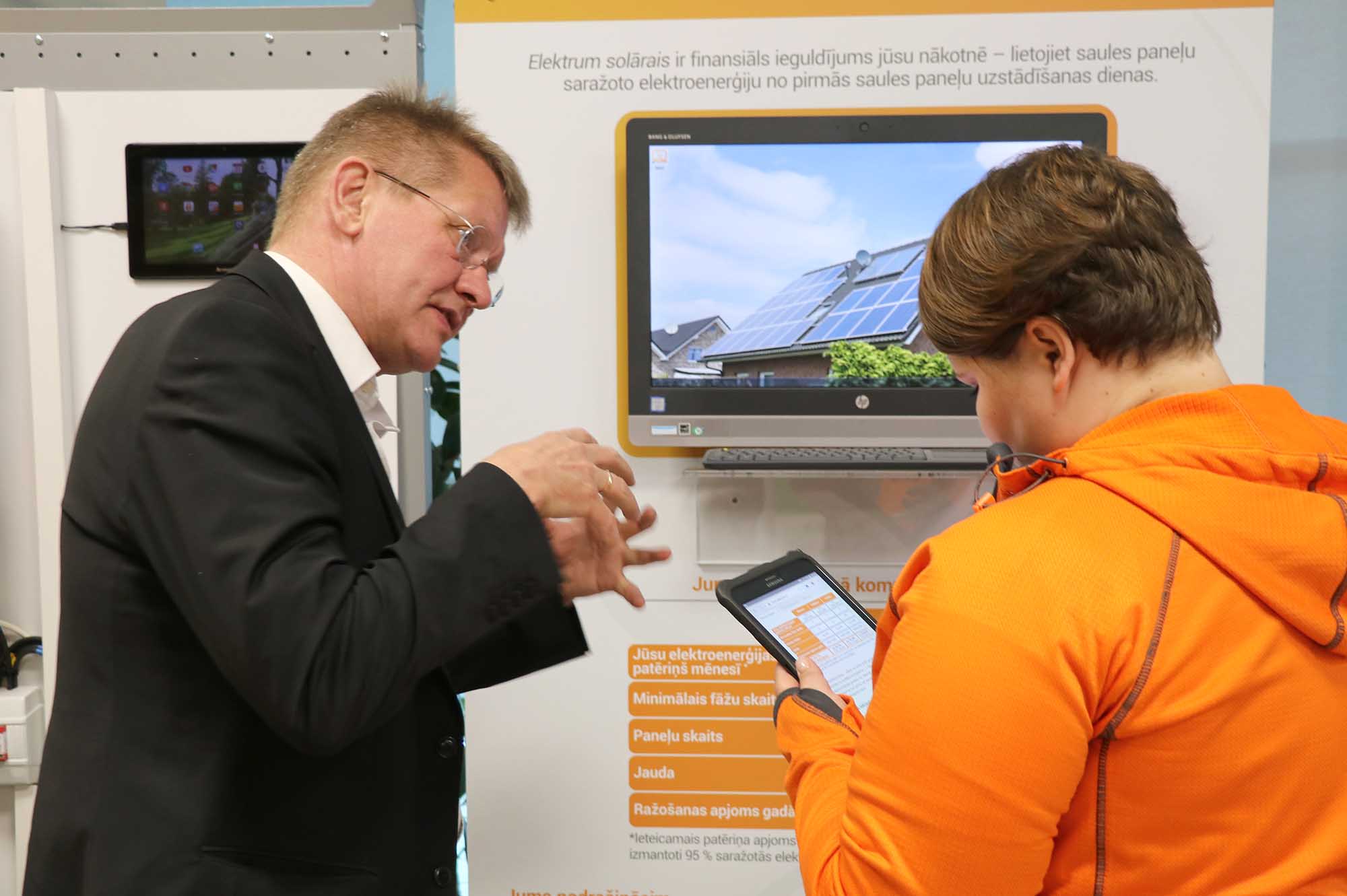 The experience of specialists of the Centre shows that anybody can reduce one's daily electricity consumption by at least 10%, thus promoting greener lifestyle and cutting own costs.
Nowadays, when the public responsibility towards environment is stipulated by international laws and regulations, energy efficiency requirements are defined in regulatory documents of the European Union and have covered an increasingly broad range of subjects – private persons, legal entities and energy generators.
Energy efficiency requirements for various groups are stipulated and regulated by multiple regulatory enactments - the Directive 2012/27/EU, EU2020 framewrok, etc.
Everyone is invited to attend free of charge the events and educational workshops organised by Elektrum Energy Efficiency Centre, participate in the field trips, as well as receive individual consultations from the Centre specialists regarding lighting, heating and ventilation solutions, choice and efficient use of household appliances, use of renewable energy sources, electric vehicles and their charging possibilities.
Environment
In recent years, we can hear the combination of words "climate change" at every turn, and this issue is on the agenda of politicians around the world. What is the contribution of Latvenergo, a company, for which care of the surrounding environment is one of cornerstones of sustainable development, in order to operate in a more climate-friendly manner?
Latvenergo AS has already accomplished a lot and continues activities to improve efficiency and increase the use of RES, thus reducing CO2 emissions, and on its own initiative supports replenishment of fish resources, makes artificial spawning nests for fish and cleans rivers in cooperation with environment experts, biologists and hydrobiologists.
Each year Latvenergo releases more than 8 million juvenile fish of various species – Baltic salmon, sea trout, zander, whitefish, pike and lamprey – in the Daugava River basin.
Placement of artificial spawning nests for fish in hydropower plant reservoirs facilitates preservation and replenishment of fish stocks; therefore, each year artificial fish spawning nests made by more than 400 employees of Latvenergo Group are placed in the Daugava River near Ikšķile and Kaibala, in which at least 20 million fish eggs are spawned.
Over several years many tributaries of the Daugava River have suffered from fallen trees, beaver dams, fords created by deposits and water plants; therefore, an initiative for cleaning of rivers of the Daugava River basin was initiated in 2017 - the Vedze River was cleaned from deposits and fallen trees, and a project of cleaning the Pērse River continues.
Latvenergo generates electricity at its power plants with zero (at hydropower plants) or the lowest amounts of CO2 emissions (at combined heat and power plants). Daugava HPPs with zero emissions ensure the status of Latvia as a green country, whereas the reconstruction of CHPPs has allowed to achieve the lowest amounts of emissions.
Active users
Modern technologies allow electricity users to become active market participants, who generate, consume and sell to others the generated, but not consumed electricity.
Currently, the role of energy consumers in the world and in Latvia changes. At the moment, increasingly more customers turn from passive electricity recipients into active users, who generate green energy by using solar panels, selling the energy accumulated by electric vehicle batteries, but not consumed by themselves, and using the opportunities offered by micro network, thus engaging in the market.