Exhibition "Development of Power Engineering in Latvia"
The exhibition gives an insight into the historical legacy of the Latvian energy industry. The outdoor exhibition acquaints visitors with large industrial exhibits in their natural environment – the turbine of the Ķegums Hydropower Plant installed in 1939, a part of the turbine from the Pļaviņas HPP, 110 kV and 20 kV outdoor commutations and other technological equipment.
Visitors to the exhibition may download the mobile app "Museum of Energy Mobile Guide" ("Enerģētikas muzeja mobilais gids"). The mobile app performs the functions of a guide, because 21 exhibits of the Museum's permanent exhibition feature digital content, such as historical video stories, photographs and interesting facts to enrich the knowledge of the Museum's visitors, providing them with an in-depth insight of the exhibition. Every visitor to the Museum may now use his or her smart device to independently get additional information about the most interesting exhibits that can be seen both inside the Museum and as part of the outdoor exhibition. The mobile app "Museum of Energy Mobile Guide" can be accessed on iOS or Android smartphones or tablets only in the area of the Museum in Ķegums. During the visit to the Museum, a smart device with the installed mobile app is also offered to anyone interested on the spot.
Exhibition "Electricity Does Everything"
The exhibition represents a look back at the 20th century, showcasing the household electrical appliances used in Latvia, creating a more complete picture of the past and revealing stories about the diverse use of electricity.
Do we remember the first TV set, vacuum cleaner, washing machine or refrigerator bought in the family? Do we know how and why electricity consumption has increased and have we thought about the earlier safety warnings for using electrical appliances? The exhibitionserves as a reminder of the past, displaying the most interesting household appliances used in the 20th century, unique prepay electricity meters which could once be activated, just like payphones, by inserting money in order to use a certain amount of electricity, old electricity payment slips and bills, as well as various posters, including the series of posters on electrical safety created to the order of Latvenergo by Juris Dimiters, the most famous poster artist in Latvia, in the 1990s.
Digital exhibition "Kegums Hydropower Plant in the Photographs by Eduards Kraucs"
The digital exhibition Ķegums Hydropower Plant in Eduard Kraucs Photographs depicts the construction of the power plant from 1936-1940. The outstanding photography of prominent film documentary and photographer Eduards Kraucs (1898-1977) gives the viewer a sense of being present at the site 80 years ago. The photo story is complemented by fascinating facts from the Ķegums HPP construction diaries.
Those interested in the digital exhibition Ķegums Hydropower Plant in Eduards Kraucs Photographs can visit it at the Energy Museum exposition at Ķegums Boulevard 7/9, Ķegums and on the internet.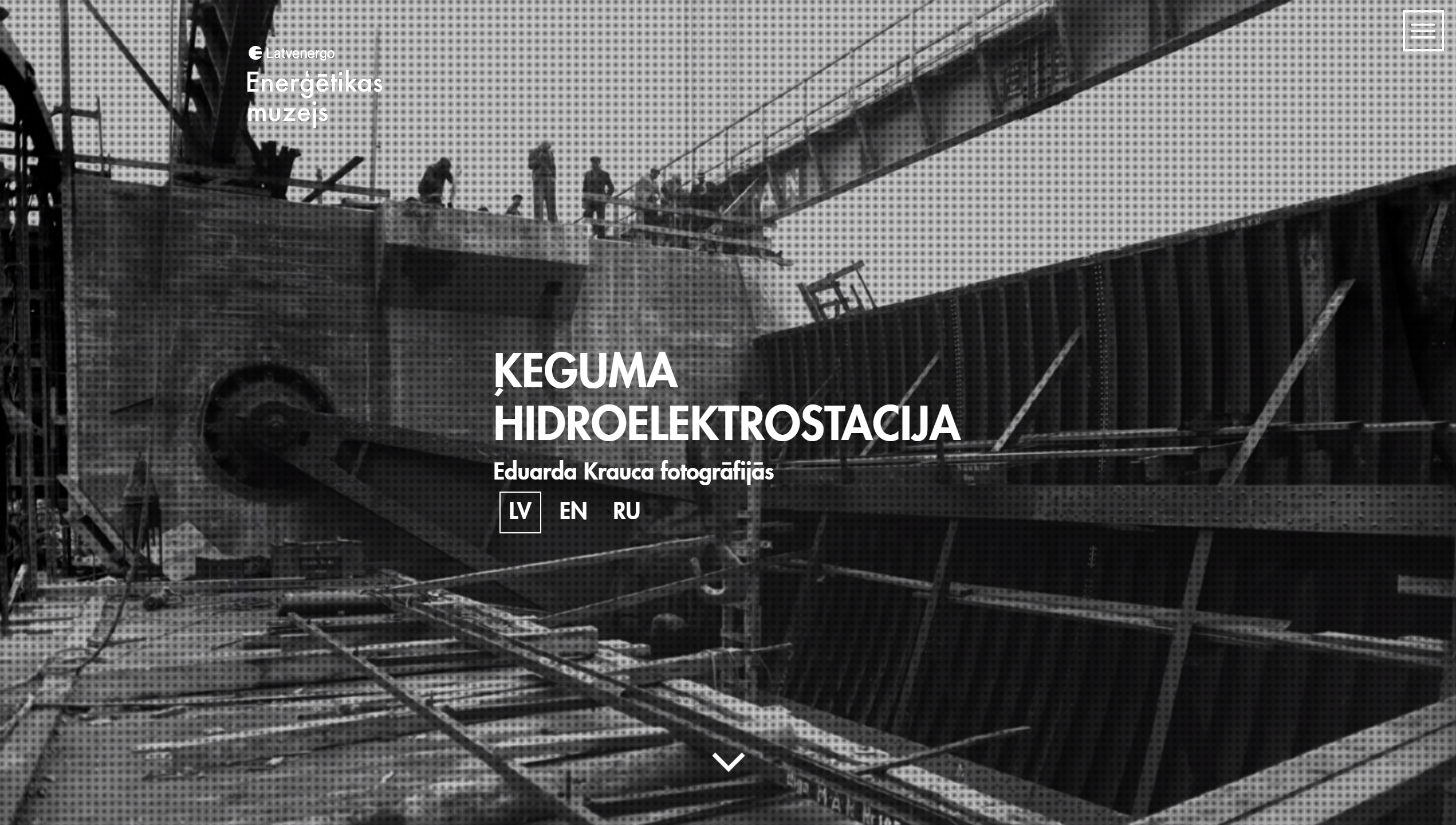 Contacts
Ķeguma Boulevard 7/9, Ķegums
+371 67728988, + 371 20208952