From 23 May 2020 the Plavinas HPP History Exposition is open to individual visitors on Saturdays and Sundays.
In order to ensure sanitary protocol requirements, 5 visitors may be present at the Plavinas HPP History Exposition at the same time.
Visitors are kindly asked to visit the Exposition only if they have no symptoms of a disease. People should keep 2 m distance from each other unless they live in one household. Taking care of safety of visitors, informative signs have been installed at expositions, disinfectants and disposable gloves are available for studying multimedia content.
By opening its doors to visitors, the
Plavinas HPP History Exposition
participates in the informative campaign of museums organised by the Latvian Museum Association #
TiekamiesTagad (#Let'sMeetNow)
.
Exhibition of the history of Plavinas Hydropower Plant (HPP)
On 18 May 2019, the modernised exhibition of the history of Plavinas Hydropower Plant (HPP) was opened at 2 Energetiku Street, Aizkraukle, as part of the celebration of the 80th anniversary of Latvenergo Group.
The exhibition Plavinas Hydropower Plant: The Largest Power Plant in Latvia is a modern, interactive and curiosity-stimulating exhibition, where visitors can use digital technologies to get to know Plavinas HPP from the beginning of its construction in 1961 until its evolvement into the largest power generating facility in Latvia, gaining insight into the operations of the hydropower plant and the generation of electricity.
The exhibition displays a turbine model, which was specially designed for the turbine performance testing during the project for the reconstruction of hydropower units No. 1 and No. 3 of Plavinas HPP in 2014.The diving suit that can be seen at the exhibition was used to carry out the supervision and repair of hydrotechnical structures.This type of suit was used from 1965 until 1996 when performing underwater works not only at Plavinas HPP, but also at Kegums HPP and Riga HPP.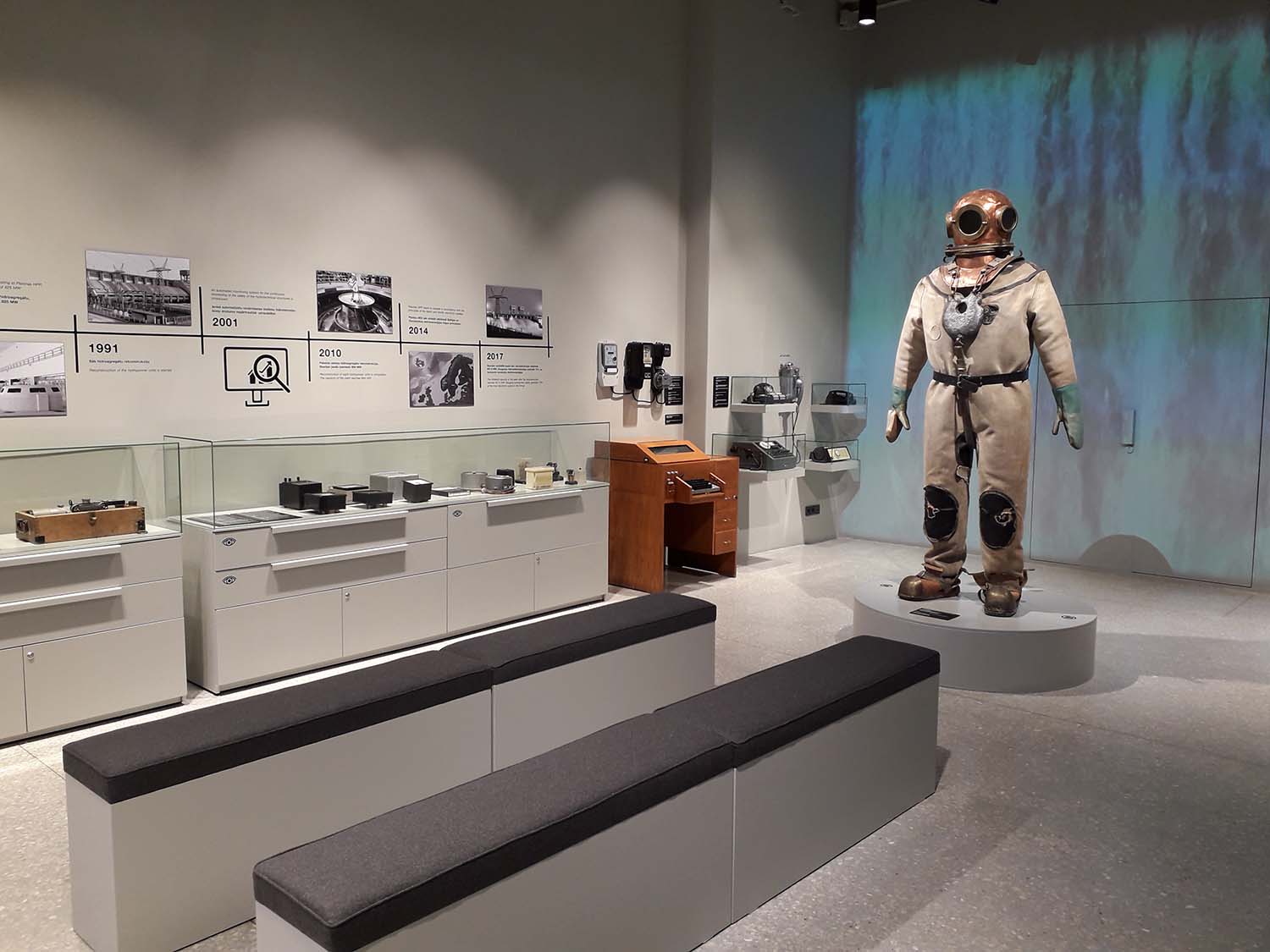 The exhibition showcases unique gadgets, such as a bathometer, water flow and level gauges, and temperature and pressure sensors which were used to monitor the safety of hydraulic structures. Visitors can also see historic electricity meters. Today, with the widespread introduction of smart electricity metering devices by Sadales tīkls AS, a meter with a rotating disc is becoming a thing of the past.
Contacts
Enerģētiķu Street 2, Aizkraukle
ina.aizupiete@latvenergo.lv
zane.nemme@latvenergo.lv
muzejs@latvenergo.lv
Without applying in advance:
Sat., Sun. 9.00 - 17.00