Latvijas vēja parki expects the first wind turbines to start spinning in 2026
August 31, 2022
At the end of July, the joint venture of two state-owned companies - Latvenergo and Latvijas valsts meži - Latvijas vēja parki was registered, whose task will be to construct the largest wind farms in the territory of Latvia so far in the forest land territories. The planned wind farms will generate 2.4 terawatt hours of electricity per year, which is around 30% of the electricity consumed in Latvia last year. In her interview to LETA agency, Chairwoman of the Management Board of Latvijas vēja parki Ilvija Boreiko says that she optimistically expects the first turbines to start spinning in 2026. She also denies that this decision of the state would undermine competition and the opportunities of private developers to build wind farms, because such a large-scale project will, on the contrary, also help others to build infrastructure and supply chains.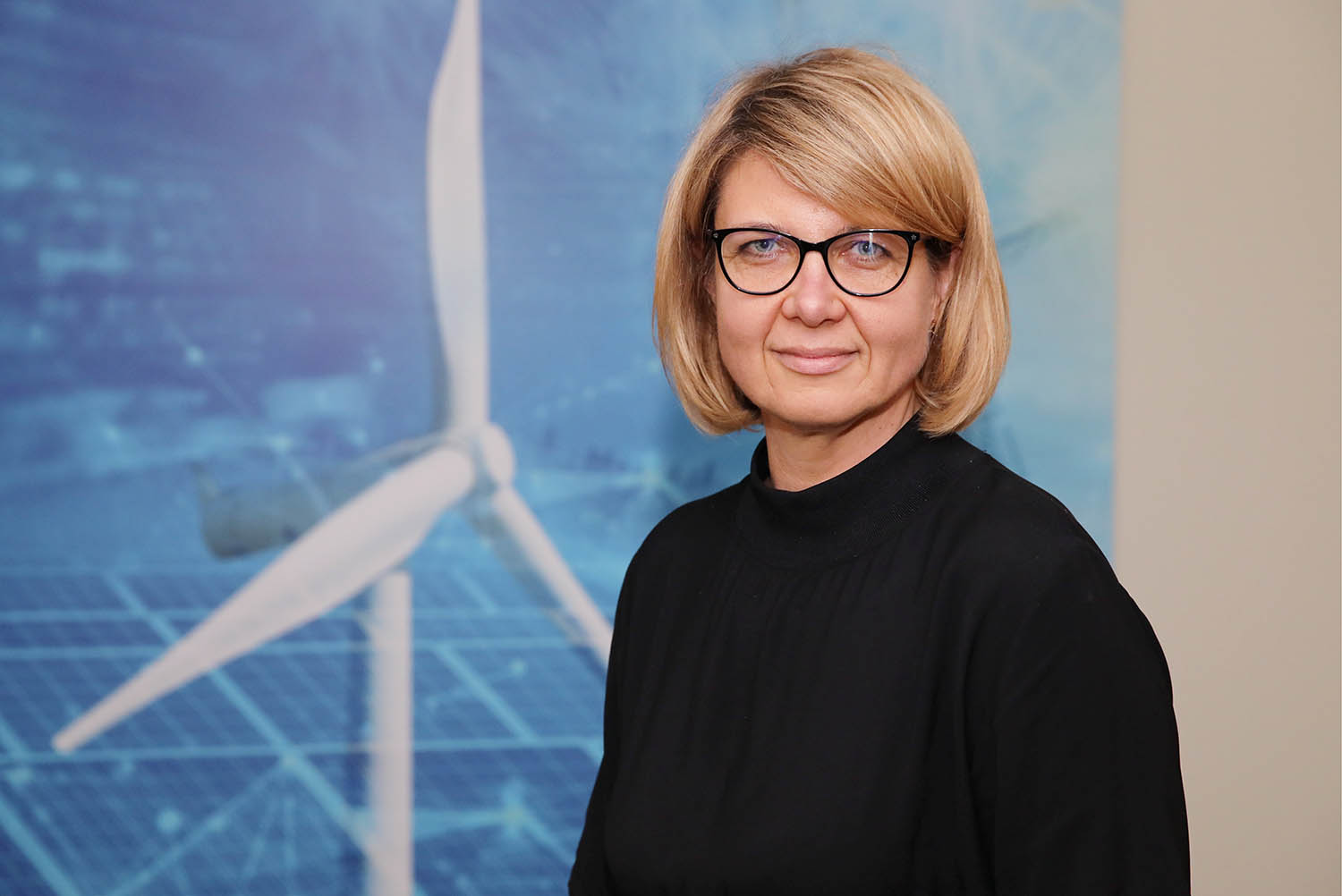 Chairwoman of the Management Board of Latvijas vēja parki Ilvija Boreiko
What will be the first tasks in the newly established company? What will you do in the first six months?
Ornithological, bat, species habitats and biotope studies have been commenced and will continue next year in order to be able to carry out environmental impact assessment (EIA) processes. The second major task is wind measurements. Wind measurement data allows one to optimise the location of wind turbines, as well as to choose the most efficient wind turbines for a specific location, or turbines that could potentially generate the maximum amount of energy in this location. Therefore, the first tasks are measurements and data analysis. The full-scale EIA process that we have to carry out in forest territories will also be quite complicated, taking into account the amount of habitats, because Latvia is rich in both birds and various protected species. Our goal is to carry out detailed studies so that with our work we create as little impact as possible on the environment, the landscape and, of course, the population.
In order to be able to start the procurements and the construction process of wind turbines, it is essential to carry out a comprehensive environmental impact assessment, wind measurements and analysis of all the obtained data.
How long will these studies last?
The feasibility study of the potential territory could be completed as early as at the beginning of the next year. In turn, the full-scale EIA process is planned to be completed by the end of next year.
However, the government is proposing to shorten the EIA process to half a year. Does it mean that you won't use it after all?
The new Cabinet of Ministers regulation, providing for a simplified procedure, has not yet been adopted, and it is still difficult to say what the final wording of this regulation will be. At least from the currently publicly available information, we conclude that we will not be able to use this simplified EIA procedure for our wind farms, because our wind farms are planned in forests where there is a lot of habitats, and we need to be sure that with our operation we will not significantly impact nature in any manner. Therefore, we are planning the full-scale EIA process, as it is currently provided for in the laws and regulations.
In how many places are these studies currently taking place?
At the moment, we are actively conducting research in six places, but it is possible that there will be additional locations for us to study, because it may turn out that in some area where the feasibility study is currently taking place, hitherto unknown habitats or other natural values are found. In that case, we will look at other places where wind farms can be developed.
It has always been considered that the Baltic Sea coast in Kurzeme is the most suitable place for wind farms. Do wind measurements suggest that other locations may also be suitable?
Meteorological wind measurements and databases show that the highest wind speed is, of course, on the Kurzeme coast. Another location is the coast of the Gulf of Riga near Salacgrīva and Ainaži. However, many forget that we also have a variety of terrain in Latvia, and a potentially higher wind speed is present in the highlands of Vidzeme and Latgale.
Nevertheless, it should be noted here that we are not interested in such wind strength that we experience on a daily basis as humans. We are interested in wind speed at a height of 250-300 metres, and there the wind potential is quite similar throughout the territory of Latvia. It is not the case at all that wind farms could only be built in Kurzeme or Salacgrīva.
Is seasonality characteristic to wind energy?
One of the main tasks of wind turbine producers is to figure out how to make the generator spin even when the wind speed is low, and the technologies have developed significantly. If once it used to be the case that wind generators operated ten percent of the entire time over the year, now they can already operate 35-40% of the time. That's a lot. The objective of our project is also to look for turbines that can operate for a long time even in low wind, in order to disperse the maximum peaks of energy generation as much as possible, because in high wind, energy is generated by absolutely all wind farms.
However, is the maximum generation volume expected during autumn and winter storms?
It varies from place to place, but it will be autumn, winter, and spring as well. The lowest generation volume could be in summer, but then it can be very well compensated by solar energy, which is also developing rapidly at the moment.
How many wind parks should your company eventually manage in Latvia?
The current task is that Latvijas vēja parki must be able to generate 2.8 terawatt hours (TWh). We estimate that this will require between 100 and 120 turbines currently offered by manufacturers for such forest projects. However, haste makes waste, and first of all, wind measurements in the relevant locations must be carried out. Only then will it be possible to determine the exact quantity and type of turbines we need. If we presume these 100-120 turbines, the number of locations would be from four to six.
So, it won't be the case that there will be 100 turbines concentrated in one place?
Certainly not. We do not have such a large territory to be able to locate such large-scale wind farms.
Also, a lot depends on the connection lines. We have 110 kilovolt lines and there are 330 kilovolt lines that we can connect our farms to. Lines have different connection costs. This is also one of the critical elements that determine how many turbines it is economically justified to place in the relevant location. The aforementioned environmental aspects should, of course, also be considered.
Habitat and wind speed are one thing; another issue is how to deliver the obtained energy to consumers. Are you satisfied with the available connection capacities? For example, it is known that Kurzeme Ring has already been built with the estimate that wind farms can be connected to it, but what about other places?
The transmission system operator Augstsprieguma tīkls has now made it public that new connections with a capacity of 3,500 megawatts (MW) have been applied for transmission, and the distribution system operator Sadales tīkls has more than 1,000 MW of capacity requested by new generators. We look at these numbers cautiously, because we think that not everyone who has currently requested capacities for the construction of their plants will actually build them.
Current legislation does not provide for the possibility of reserving capacity for wind farm developers until the environmental impact assessment procedure is completed, and this applies equally to Latvijas vēja parki. We hope that the recently adopted amendments to the Electricity Market Law will help to resolve the confusion about which are the real projects and who their developers are. They provide for introducing a fee for system capacity reservation. Currently, the regulator must develop a methodology for calculating the fee for system capacity reservation, as well as the procedure for allocating this fee to cover the connection fee. According to the amendments, the connection reservation fee will also have to be paid by all those electricity generators who, by the date of entry into force of the methodology, will have received the technical requirements of the system operator for the installation of the system connection and agreed upon the conditions for the implementation of the connection process, but will not have concluded a connection contract. The fee for system capacity reservation will have to be paid no later than within three months from the day the methodology comes into force.
You mentioned that the study and the EIA will be done by the end of next year. What is the further timeline for project implementation?
One more important thing will have to be done next year - the company needs to obtain the right of superficies to the lands where wind farms will potentially be located. There are also changes in the regulatory framework being accepted at the moment, so that anyone can be granted the right of superficies in forest lands. We shall see what this regulation will eventually be like. If the EIA is successfully completed and if we obtain the right of superficies, we plan to perform turbine procurements in 2024.
For now, it is still difficult to say whether the EIA process will go smoothly in all potential areas. Therefore, it is possible that the procurements could also be separated - at the locations where everything will already be in order, we will announce procurements, while where the EIA process will proceed more slowly, they will occur later.
Is it planned to involve local residents and local government in the process of assessments and to take their opinions into account?
The EIA per se provides for public discussion. But we have also made it our mission to educate the public about wind energy, the impact of wind turbines on health and the environment. Therefore, we are already working on an information campaign to be able to involve the public even before these public discussions. The very goal is actually for people to understand that we will all gain much more from wind farms by building them than by not building them.
We have also started cooperation with various non-governmental organisations, including environmental organisations, which could help us develop effective risk mitigation measures or compensatory measures. Of course, such a large-scale project will have an impact on the environment, but we, together with experts, including from environmental organisations, have to figure out how to minimise the impact as much as possible.
Nevertheless, aren't you afraid that, as previous experience shows, local residents are against such projects, because it seems that everyone likes green energy, but not in their backyard?
It cannot be denied that not only wind farms, but large industrial objects in general are treated like this by the population. The latest changes in the Electricity Market Law foresee compensatory mechanisms for local governments who will be able to decide where to use this money. I think that this mechanism will also allow citizens to look at wind farms more positively. As I already mentioned, we are also going to try to educate the public to understand that there will not be any direct impact on their health, their ability to use their mobile phones, or anything else that people are citing as reasons. Modern turbines are equipped so as to solve most of the problems that once existed.
The war in Ukraine has given new speed to all green energy projects; are there any concerns that a shortage of wind turbines could develop? Don't you already have to stand in line for their manufacturers well before the intended year of 2024?
It is not that bad. We were at the wind energy industry conference in Bilbao this June, where we talked to virtually all the big manufacturers. They confirmed to us that although interest in turbines has certainly grown, turbines can still be produced within a year. To a large extent, this is due to the fact that in almost all European countries the development cycle of wind farm projects is long enough - from two to five years, depending on the country. Consequently, manufacturers are also quite good at predicting order volumes. They are preparing for demand to grow.
It is also a pleasure that there are companies in Latvia that have been producing turbine components for the large turbine manufacturers for 10 years - both for Siemens and General Electric.
How big an input could Latvijas vēja parki projects make to other sectors of the economy, considering that these farms will also have to be furnished, access roads built, etc.?
Considering the size of the project, it is quite safe to say that turbine manufacturers will need local cooperation partners - starting from the production of individual parts and assemblies and ending with services. Of course, objects such as roads, foundations of turbines - will definitely be built with Latvian resources. Current calculations show that the development of related industries is estimated at 20 million euros per year.
When could Latvijas vēja parki start generating the first kilowatt hours of electricity?
I optimistically expect the first wind turbines to start spinning in 2026.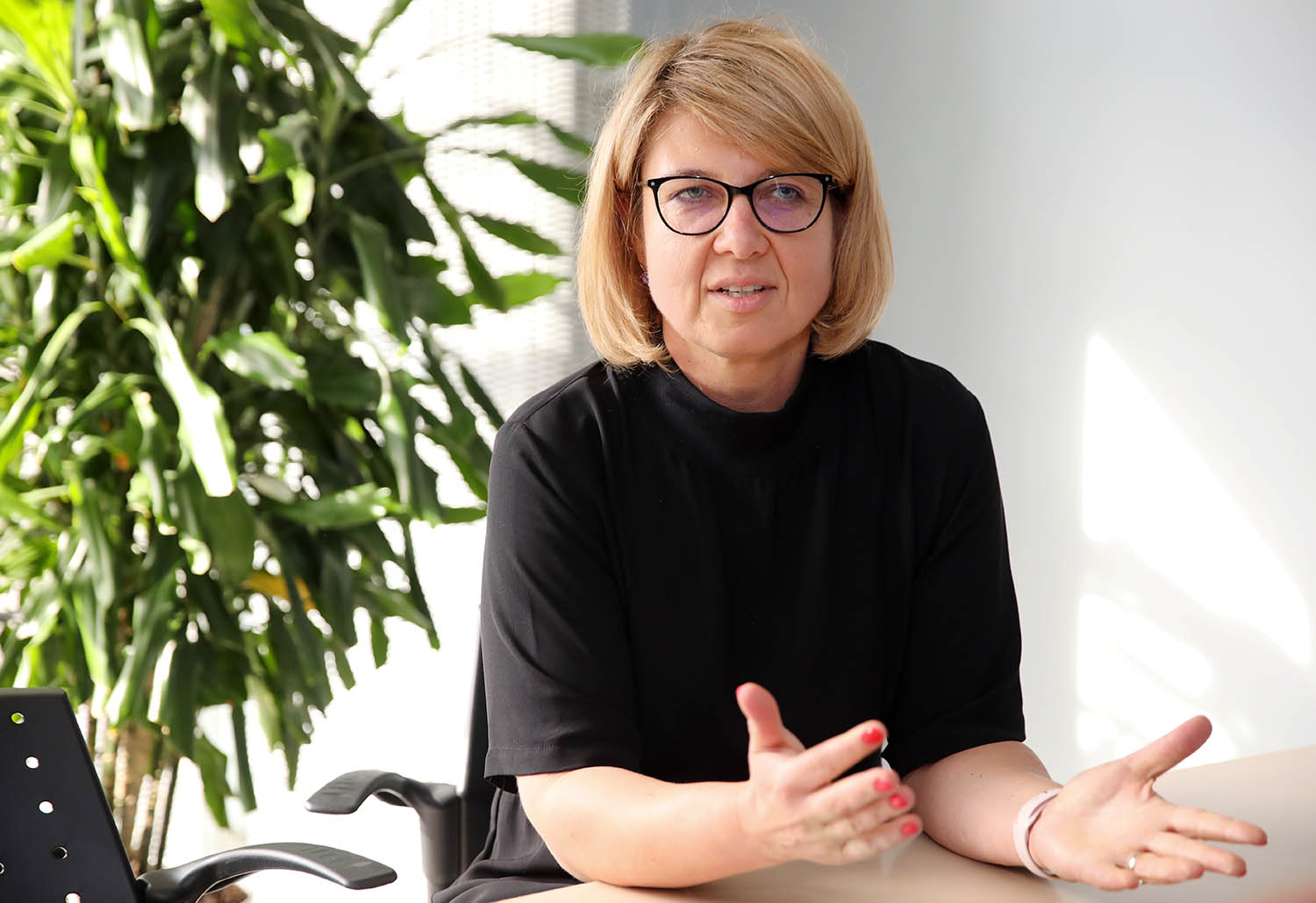 The Prime Minister mentioned that investments in Latvijas vēja parki will reach one billion euros. From what funds is it planned to raise them?
It is planned that the investments in Latvijas vēja parki AS will be made by both shareholders - Latvenergo and Latvijas valsts meži according to the division of capital shares owned by them. The largest investments are planned gradually over a period of 4-5 years.
Latvenergo AS will finance part of the investments from its own funds, borrowing another part from financial institutions and issuing green bonds in the capital markets. Latvenergo AS regularly attracts borrowed funding from commercial banks and international financial institutions, but over the last 10 years it has repeatedly successfully issued bonds in the local capital market, raising the funding from local and foreign investors - pension and asset funds, insurers, banks, private individuals, and other investors.
Could Latvijas vēja parki also issue bonds themselves in the future to raise the necessary funds?
It has not been thought of yet. However, it is worth considering and is possible.
Various support mechanisms of the European Union are also available within the framework of the Green Deal. Are you interested in them?
We are currently planning this project without any support mechanisms, but, of course, we will see if we qualify for any support mechanisms or co-financing.
At the current stage of development, however, you rely on shareholder funding only?
Yes.
But will it be enough, because the government is currently planning quite a number of activities that will have to be paid by Latvenergo?
Latvenergo has implemented quite large-scale and voluminous projects before, being able to raise funding on very good terms. I think this project will also have no problem with finding financing in the market with very good interest rates.
The entire project plan is a business plan, and our planned dividend amount is 50 million euros per year from the time the project starts to fully operate and 800 MW of capacity is built.
Will such a large-scale project implemented by state-owned companies not distort competition with private entrepreneurs?
I would say quite the opposite, because studies show that this sector has not been developing in Latvia so far. In order to reduce capital investment in the wind energy sector as a whole, it is very important to have a large-scale project that helps build infrastructure and supply chains. Therefore, this project will actually provide a great opportunity for other wind farm developers to implement their projects as well. Latvijas vēja parki will develop wind farms based on an arm's length basis and without additional state economic support.
Before the war in Ukraine, there was a lot of talk about the Elwind offshore wind farm project, though without going into specific detail. If it were to be actually implemented, would you be able to co-exist with it, since it would also be a large-scale project?
Yes. Our project is onshore, Elwind is an offshore wind project, and Latvia and Estonia are involved therein. In fact, these two projects do not overlap and they can live a parallel life. Studies also show that the potential of wind both onshore and offshore in Latvia is nowhere near to being used.
However, won't there be problems with the same electricity transmission capacities?
As for the Elwind project, the issue of transmission capacities is being dealt with separately from the existing system, so I don't think we will be in competition with each other.
Could Latvijas vēja parki prospectively look at offshore territories as well?
No, there is no such plan at the moment. The objective of Latvijas vēja parki is to build 800 MW of capacity onshore.
How might your entry to the market affect electricity prices?
The electricity market is like any other market. The more generators there are, the cheaper electricity becomes and the price for consumers also decreases. By building 800 MW, the electricity generation potential will increase significantly. Also, we currently import quite a lot of energy in Latvia. If it can be reduced, we will also become more energy independent. I truly believe that this will allow the price of electricity to be stabilised and possibly reduced.
It should, nevertheless, be taken into account that operation of a cyclical nature is characteristic to both the hydropower plants (HPPs) and wind farms existing in Latvia. The good thing is that the cyclical nature of water and wind energy is not the same, so it cannot be predicted that when there are large energy outputs in HPPs, wind farms will also have such and vice versa. Consequently, the electricity generation curve in Latvia will be more linear and the energy deficit will significantly decrease.
About the administration of the new company. The management board of Latvijas vēja parki has currently been appointed by the shareholders, but it is also planned to hold a competition for it. When could this happen?
Yes, there will be a public competition for the positions of management board members of Latvijas vēja parki in accordance with the requirements of the laws and regulations. It will be announced shortly.
How big should the management board be for such a company?
It is planned that the management board will consist of two persons.
Will you participate in the competition?
I will think about it, because this is a large and unique project both in Latvia and in Europe, and I really have a great interest in being a part of it.
However, from this point of view, doesn't the establishment of Latvijas vēja parki look hasty, because, perhaps, first the management board should have been selected, registering the company afterwards, and not vice versa?
In my opinion, we in Latvia must not hesitate even for a moment, because, unfortunately, the shortage of electricity also triggers high electricity prices and increases the tension in today's geopolitical reality.
Therefore, I believe it is the right decision to appoint a temporary management board, which starts working immediately on the development of the project. Besides, it is not logical to organise a competition before the company is registered, while the persons managing the relevant company must be specified when registering a company.

Source: LETA